Pool
If water flows into the pool by two inlets, fill the whole for 8 hours. The first inlet filled pool 6 hour longer than second. How long pool take to fill with two inlets separately?

Correct result: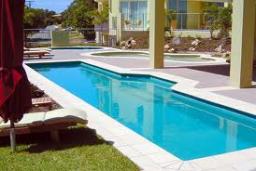 Our examples were largely sent or created by pupils and students themselves. Therefore, we would be pleased if you could send us any
errors you found, spelling mistakes, or rephasing the example. Thank you!
Please write to us with your comment on the math problem or ask something. Thank you for helping each other - students, teachers, parents, and problem authors.
Showing 3 comments:

Math student
1/t1+1/(t1-10)=1/18
multiply each term by18(t1)(t1-10)
that results in
18(t1-10)+18t1=t1(t1)(t1)-10t1
using the quadratic formula results in t1=-49.6 and 3.63
ubless i made a mistake, your calculations need reexamination!!! Correct me, please.

Dr Math
right side of equation is wrong - should be t1*(t1-10) = t12 - 10*t1 now t13-10t1

Math student
the problems seems to have changed - - - t2 is now equal t1-6

therefore 1/t1+1/(t1-6)=1/18
multiplying each term by18(t1)(t1-6) ==== 18(t1-6)+18t1=t1(t1-6), simplifying further 18t1-108+18t1=t12-6t1
or 0=t12-6t1-18t1+108
graphing y=18(t1-6)+18t1-t1(t1-6) results in t1=39.25 hours and t2=39.25-6=33.25 hours (same as your NEW answer!!!!
Tips to related online calculators
You need to know the following knowledge to solve this word math problem:
Next similar math problems: