Isosceles triangle 9
Given an isosceles triangle ABC where AB= AC. The perimeter is 64cm and altitude is 24cm. Find the area of the isosceles triangle

Result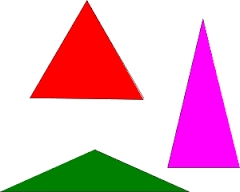 Our examples were largely sent or created by pupils and students themselves. Therefore, we would be pleased if you could send us any
errors you found, spelling mistakes, or rephasing the example. Thank you!
Leave us a comment of this math problem and its solution (i.e. if it is still somewhat unclear...):
Showing 2 comments:

Steve
No, your solution starts with h=25cm, but the question says that h=24cm.

So, looking at one-half of the isosceles triangle, x2 + 242 = (32-x)2 solves to x=7cm, which gives the area of the isosceles triangle as 7x24 = 168cm2

Dr Math
thank you, we corrected 25 to 24 as altitude....
Tips to related online calculators
Following knowledge from mathematics are needed to solve this word math problem:
Next similar math problems: