Inscribed circle
Write the equation of a incircle of the triangle KLM if K [2,1], L [6,4], M [6,1].

Result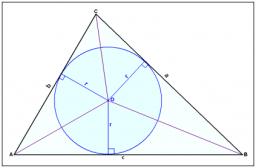 Our examples were largely sent or created by pupils and students themselves. Therefore, we would be pleased if you could send us any
errors you found, spelling mistakes, or rephasing the example. Thank you!
Leave us a comment of this math problem and its solution (i.e. if it is still somewhat unclear...):
Showing 2 comments:

Math student
the answers are not proper. steps are missing.

Dr Math
you are right. The coordinates of the incenter are the weighted average of the coordinates of the vertices, where the weights are the lengths of the corresponding sides.
Tips to related online calculators
Following knowledge from mathematics are needed to solve this word math problem:
Next similar math problems: