Coordinates of a centroind
Let's A = [3, 2, 0], B = [1, -2, 4] and C = [1, 1, 1] be 3 points in space. Calculate the coordinates of the centroid of △ABC (the intersection of the medians).

Correct result: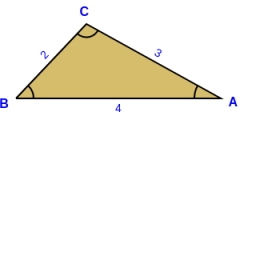 We would be very happy if you find an error in the example, spelling mistakes, or inaccuracies, and please
send it to us
. We thank you!


Showing 0 comments:


Tips to related online calculators
Looking for help with calculating
arithmetic mean
?
For Basic calculations in analytic geometry is helpful
line slope calculator
. From coordinates of two points in the plane it calculate slope, normal and parametric line equation(s), slope, directional angle, direction vector, the length of segment, intersections the coordinate axes etc.
Looking for a
statistical calculator
?
Two vectors given by its magnitudes and by included angle can be added by our
vector sum calculator
.
See also our trigonometric
triangle calculator
.
You need to know the following knowledge to solve this word math problem:
Next similar math problems: